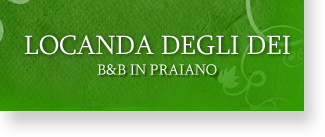 Rates
Room type
Min
Max
Double Room
Single Occupancy
€ 80,00
€ 140,00
Double standard
€ 80,00
€ 140,00
3-bedded Room
€ 100,00
€ 160,00
Junior Suite
€ 120,00
€ 160,00
Extra Bed €. 20,00
Important note
: the room rates are per day and include breakfast, air conditioning and heating in the room, services, taxes and VAT. Prices are only indicative.
Free Car park
available with your room.
The price
does not include
the "Overnight accommodation tax" corresponding to € 1 per person per day.
Any queries regarding booking or availabilty must be made directly to the Locanda Degli Dei.

Ask for availability
Questo sito e il nome Locanda degli Dei sono proprietà di ESTER S.r.l. - P.I. 04573050657
© 2008-2023 ESTER S.r.l. | Tutto il materiale pubblicato è soggetto alle leggi sul Copyright.
Ne è vietata la riproduzione o l'utilizzazione non autorizzata.
Privacy Policy
|
Cookie Policy
Locanda degli Dei | Via Pistiello II - Praiano | Tel. +39 089 813 1309 - Fax +39 089 813 1252 | Mail